Microsoft Excel and Word
Microsoft's Excel and Word are the two most used applications out of the Microsoft Office suite of applications. Excel can be used for creating spreadsheets, databases and also for analytical purposes. While Word is used as a application for typing and editing any form of document. When you create an excel 2013 document and you save that document it is saved as an excel document with .XLSX extension. This extension tells the Excel 2013 application that the document is an excel document and will automatically open with excel. Likewise, when you create and save a Word document that document is saved with a .DOCX extension, this tells the Microsoft word application that this document is created using word and should be opened automatically with Word. But not because Microsoft Excel and Word 2013 saves the document and gives it a default recognizable extension means that the document can only be save or opened in that format. You can also save your documents easily to a PDF extension which can be read by all pdf readers.
Why The Need To Convert To PDF
Converting your Microsoft Word 2013 or Excel 2013 document to PDF has several advantages which I will highlight below.
Document Can Be Viewed Universally
Most computers will have installed a standard PDF application which is capable of reading files in PDF format. PDF stands for
Portable Document Format
. It is like a universal way to read any type of document without having to deal with formatting issues from different applications and different versions of Microsoft Office. Let us say someone created a spreadsheet in an application different from excel and needs to send that document to someone across the globe who does not have that special spreadsheet application on his or her computer to view the document. The document owner could easily convert the document to a PDF format which is universally recognized and then email that converted document to the intended recipient who would have no problem opening and reading the document.
You Don't Want Any One Making Changes To The Document
People will convert documents to PDF if they wish to send out a document and do not want any form of changes to be made to the document. Many times people will actually receive opened documents (documents which can be edited) and will edit that same document without any form of approval and send that document to other recipients without informing the document owner of any changes made to the document. You can reduce the chances of this happening by converting your document to PDF which will disallow tampering with the document.
Let us now look on how we can convert Excel 2013 and Word 2013 Documents to PDF
1. Open The Excel Document You Want To Convert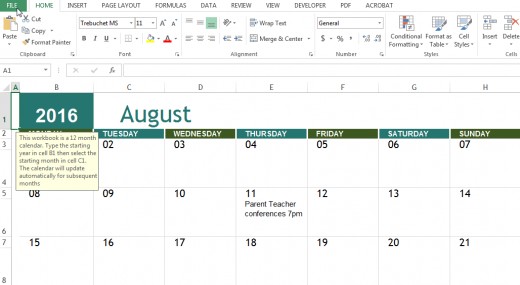 3. Choose a Location To Save Your Converted File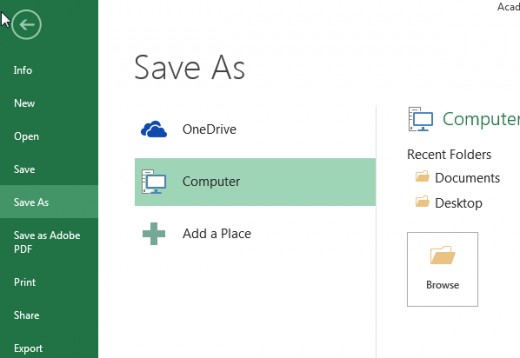 4. Click Save As Type

5. Select Save As PDF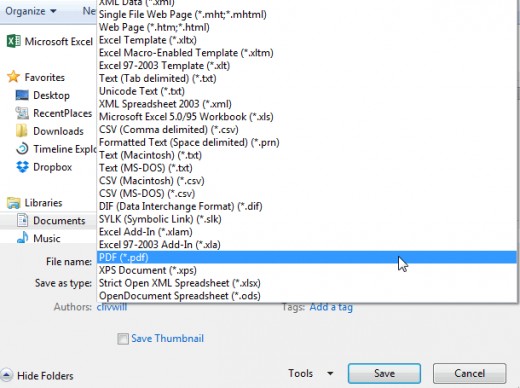 Once you select the save as PDF and hit the save button. You can now browse the location which you selected the converted documents to save to. Notice the document you just converted. The document icon should now be changed to the default PDF reader you have on your computer. Open the document and verify that it is converted properly.
Converting Word 2013 to PDF
You will just need to follow the exact same steps used to convert your excel 2013 document to PDF.
Open the document you wish to convert
Click File - Save As
Choose the Location you wish to save your document
Choose the Save Type Option
Click PDF from the List
Save your converted File