The world of book publishing has evolved over the years. Back in the time of print only type of publication, it was quite a tedious task to have your book published. Many authors faced humiliation and rejection when they submitted their manuscripts for consideration of publishing. Publishers rejected their work and not all did so in a pleasant manner. Fast forward to the 21st century it is no longer a tedious task to have your book published and available at the fingertips of millions of readers. Authors today can write their books and have them published in as little as five minutes and available online for purchase in less than 24 hours. Many vanity press which existed back in the days have now gone out of business, the larger and much profitable ones seemed to have stayed afloat because they adapted to current trends and technologies. One of this adaptation in the use of technology to publish a book is publishing your book in audio format. An audio book is basically a piece of literature that is spoken and recorded on a compact disk or any other media. That media is then sold in book stores or online as a soft copy. Sounds simple right? But creating an audio book takes much more than publishing an eBook or a hard copy book. When you publish an eBook, all you need to do is to have a great book written, create a good looking book cover with a clickable title and then upload to a good eBook publisher. Then make adjustments to your personal book settings and your book is online and ready to rake in the cash. Audio books are simple to create once you get the ball rolling. But you will need the right touch to make your book a good or even a best seller. So let's look at a few things you should do to create your audio book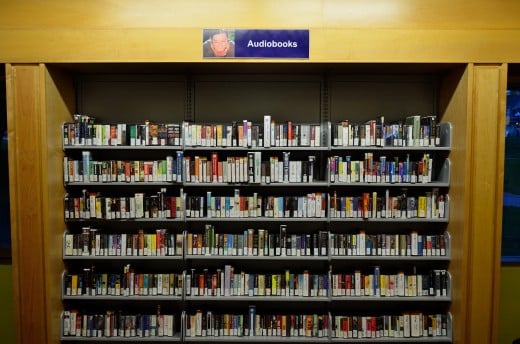 Make an Audio Book
Writing and Recording Your Audio Book
Unless you have your entire novel in your head ready to blast out through some recording device, you will need to have written your book and have that electronic copy ready to be converted to an audio book.
Convert Your Book to Audio
The next step is to do the book conversion to audio book format by speaking and recording each page. The trick in creating good audio book is good quality sound and voice projection. Let's face it, many of us do not have that unique voice which drives people to listen and catch every letter of the alphabet that dribbles from our mouth. So a good option in creating your audio book is outsourcing a good voice. A voice that captures the audience from beginning to the very end. Remember, the voice being used for the book recording must be clear and precise. Many authors choose to use their own voice, but some do not fare so well doing this, while other authors have practiced recording their audio book and creating that flow before recording
Convert Your Audio Book to MP3
When you have finished recording your audio book it should be in some type of audio format. You must ensure that the format of your audio book is compatible with the average audio listening devices such as a tablet, cellphone, or a MP3, MP4 or MP5 Player.
Different Methods Used To Create an Audio Book
Recording a good quality audio book can be cheap as well as it may come at a cost. Let's look at the different methods for creating your audio book, their advantages and disadvantages
Purchasing a Good Text to Speech Software
You can purchase a good text to speech software that will give you good quality when making your audio book. With a text to speech application, all you need to do is copy and paste your book to the application and select the desired output format. (mp3, mp4, etc.) The drawback about text to speech software is that it lacks life, "literally." A text to speech application can never relay an audio book with all the feelings, emotions and expressions as a human speaking the book. But it does work well for a few "How To Do" books.
If you know that you have a great book and that it has the potential to make some good money or even become a best seller, it would be good to hire a narrator with that good quality voice to speak and record your book. Always choose the narrator based upon the type of book and the mood you want your audience to be in when they listen to your book. So instead of hiring Alfred Hitchcock to narrate your love novel, it would be wise to find a much more soothing and romantic voice.
Record Your Book in a Studio
If you are looking to have that audio book that is the talk of the town, you may just need to hire some sound effects people. These people will be in charge of creating certain tones or background music props during certain sections of your audio book as required. So let us say that you have a certain section in your book where adrenaline is on a high, you would want some music which depicts strong romance inserted in that section. The various high points of an Audio book should have fitting background sound effects. When you record your book in a studio, you will definitely get a much cleaner recording as the studio environment was built with quality recording devices and sound proof infrastructure to give you that crisp clear tone.
All the above methods will come at a cost to you, but if quality is a big deal for you, it would be wise to go that route. The cheaper way of making your audio book is to have some light background music playing on a computer while you the author speak and record your book. If you have a friend with a good voice, meaning a voice that is clear and strong, that person could do the voice recording for you.
You must have the following items below to record the audio book yourself
Audio recording Software on your computer

Headset with mike and headphone
Formats Used For Audio Book Distribution
Audio book today come mostly in three formats; that is compact disk, memory cards or digital downloads. These audio formats will provide good quality sound. The main difference in the audio book format formats is the device you choose to listen your audio book.
Compact Disk (CD)

CD's are still widely used today and still provide excellent audio quality. You can use them on computers, home systems and in your car. The disadvantage is that it has no market for tablets, cellphones and other small devices. Compact disk are still preferred by many retailers and book libraries.
Audio Books on Memory Cards

The media format never stops evolving and there are many more evolution to come. Audio books are also distributed on memory cards which are convenient for much smaller devices such as a Tablets, Phones and small media players.
Downloadable Audio Books

Well, what the digital world of books would be without having audio books available in a downloadable format. You will most likely get your audio books to be downloaded in any of the more popular digital formats such as MP3.
Audio Books are Rising and has Many Benefits
Audio books will soon take over. When i tell people this they look shock when they hear such a statement. But if we study the science of evolution as it relates the technology and the people coming up using today's and tomorrow's technology, we can see where Audio books will have a huge market. A survey was done by the Audio Publishers Association in 2015 as it relates to audio book growth and sales. The survey revealed that there was a huge 24% increase in Audio book sales in that year, with an increase in digital downloads. Audio book will be the preferred format for books as people will evolve into listening a book over reading one.
Listening a book is quite convenient and comes with several benefits over traditional reading:
Audio books allows you to multitask
No other book format can allow you to cook and enjoy your favorite novel at the same time, or mowing the lawn while enjoying your favorite mystery novel. You can listen to audio-books on work out tips and techniques while working out. Audio books were made for multitasking.
It doesn't tire your eyes
What a benefit! I know a lot of book lovers who have some very tired eyes because of all the books they read. But having that same book in audio will eliminate tired and painful eyes gained from excessively long and continuous reading.
You can go back and listen over and over
Yes, with a traditional print or eBook you can do the same, but with an audio book it is much simpler. You have less strain on your eyes re reading the same thing and all it takes is the stroke of a finger or the click of a mouse to get you to any point in your audio book you need to listen again.
The book can be listened in groups
Instead of a teacher reading out aloud to her class, all she would need to day is get a couple of speakers and play her audio book to the class and everyone will be listening that one book at the same time. The audio book is great for groups.
Conclusion
The Audio book market is not quite as saturated as the eBook and print book market. It is a profitable sector which many authors should explore. People are diverting to listening a good book while working in their vegetable gardens or even getting ready to go to work. It allows you to multitask and is compatible with any small audio device. Like it or not, this sector of the book industry is here to stay and has the potential for explosive growth each year.