We are living in a fast paced world where people need access on the go and anywhere they go. One of the biggest problems many user faced was storage and accessing their files wherever they chose and on whichever device they wanted to use. But all that problem has been fixed with the introduction of Cloud Computing. Cloud computing may be the next biggest things since slice bread because of it's dat flexibility and availability. Cloud computing allows the use of a network of remote servers hosted on the Internet to store, manage, and process data, rather than a local server or a personal computer. What this basically translates to is that your data and any other services can be accessed remotely from anywhere and is not tied into any fixed location. So let us say that you have posted a couple pictures on windows Onedrive using your laptop in Denver. You can go on vacation in Jamaica and use your smartphone to access the pictures you saved in your cloud. A great service to set up in Windows 10. Now let us get started setting up your own cloud using your Windows 10 PC.
1. Click In the Search and Type One drive
On your desktop in Windows 10 you have a "Search the web and Windows" search option. You should click in that search box and type "one drive."
You should see onedrive link appear in your search results. Click on the link to open Onedrive.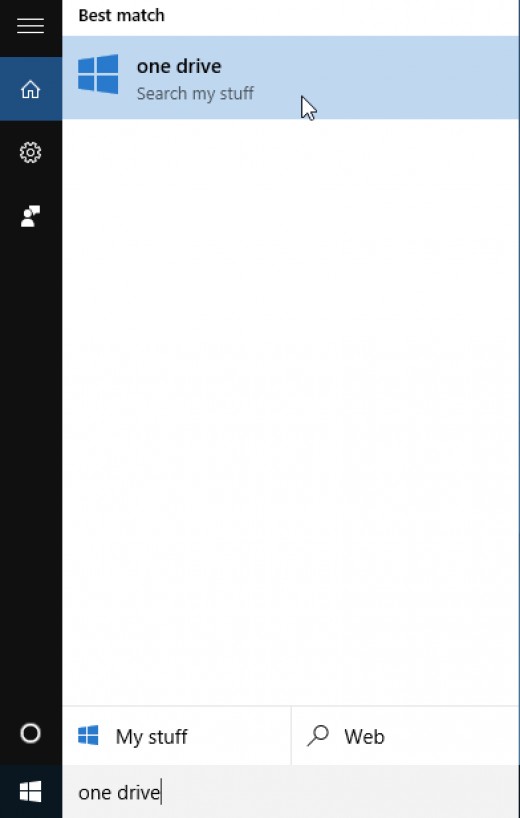 2. Getting Started With Setting Up Your Own Cloud
Now that you have opened up the one drive windows, it is time to move along with some basic settings to create your own cloud. Click on the "Get Started" button to proceed.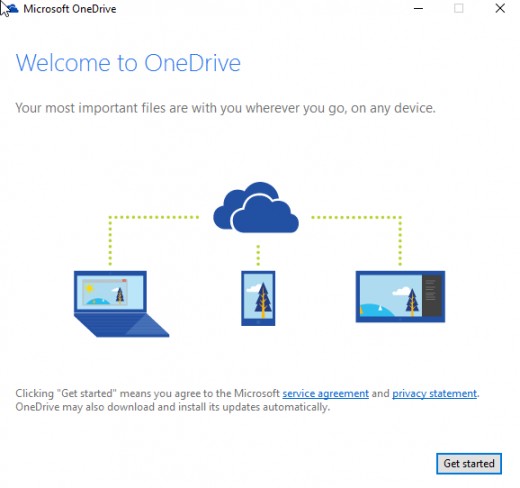 3. Signing In To One Drive
Since One Drive users cloud technology for remote file access, you must have an account ready to be able to sign into one drive to further your setup. This account would be our Microsoft live.com account. Which would be your live.com email username and password.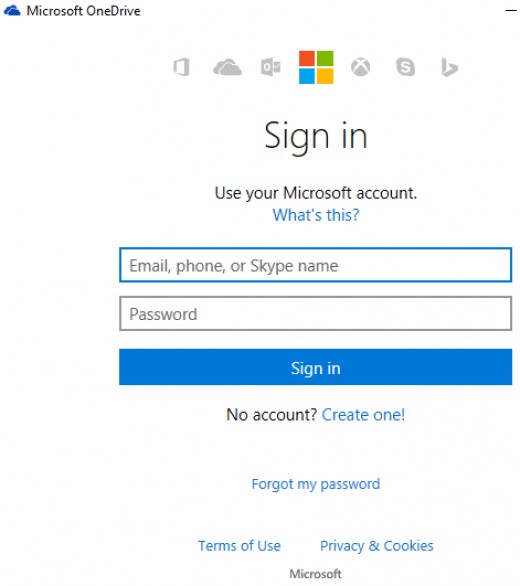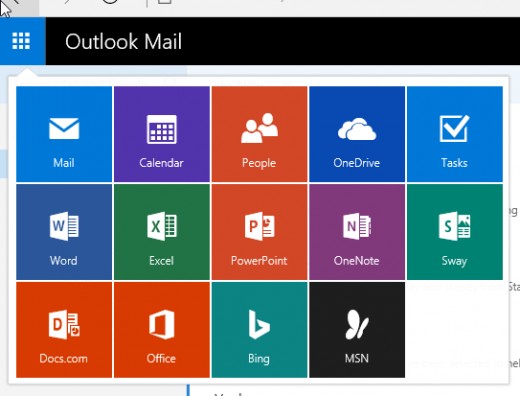 4. Your One Drive Folder
As soon as your sign in credentials are verified. You will be presented with a window view of your one drive default folder.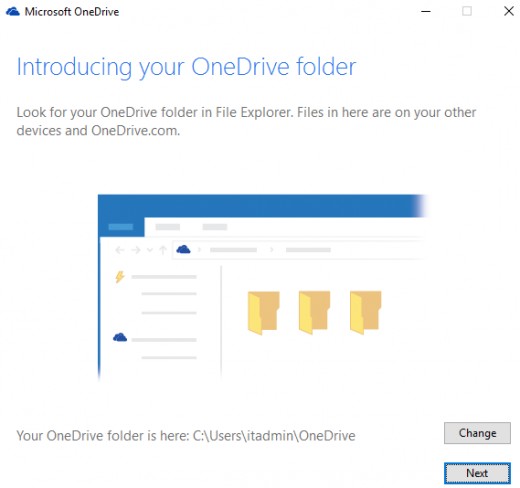 5. Changing Your One Drive Folder
You can specify where you would like the default location of your one drive folder to be. The image above shows that the current location of that user's folder is in C:\\Users\itadmin\One drive. You can create a folder on your own desktop and then copy that path to that folder and use it as your One Drive location so files on your desktop or elsewhere can easily be dragged and dropped to it.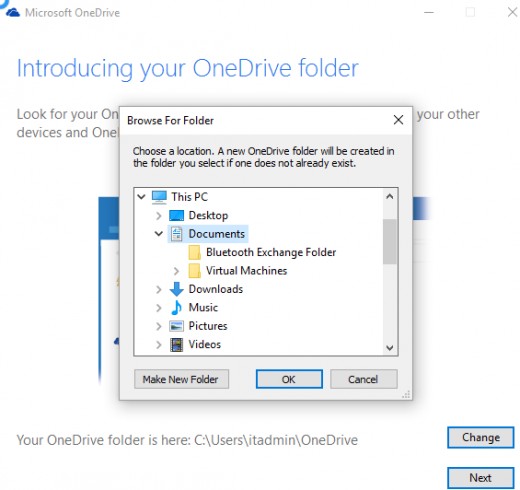 6. Fetching Your Files From Your PC
Once you have selected the default path where one drive will sync with your computer. You now have the option to fetch files from the computer you have setup to use the one drive cloud from other devices. What this means is that if you have the computer running which you have setup one drive for, and somehow you forgot to place the latest power-point presentation in your one drive folder on your computer. All you would need to do is access and device which is capable of logging into your live.com account, Select one drive and pull those files from your PC to any other device.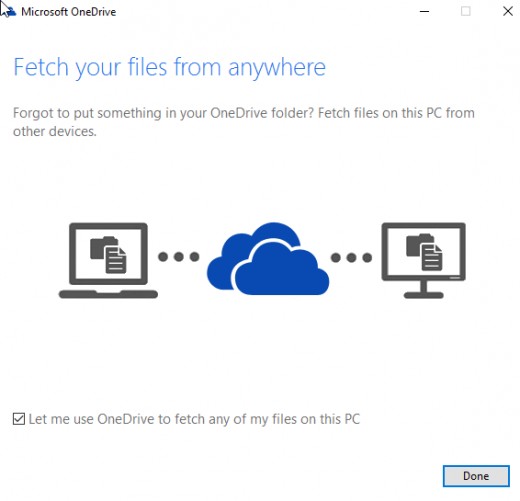 How to Fetch Any File on a Remote Computer with OneDrive
The Process is pretty simple.
Right-click on the OneDrive icon in the taskbar and select Settings.
Check the box next to "Let me use OneDrive to fetch any of my files on this PC"
Click OK.
Right-click on the OneDrive icon in the taskbar and click Exit. ...
Launch OneDrive.
Fetch File on Remote Computer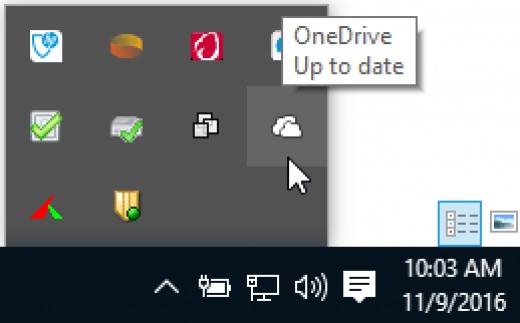 7. Finish Your One Drive Setup
You have reached the end of configuring your own cloud in windows 10 using Microsoft's one drive. The path where you selected to be the default one drive sync folder will be shown. See image below. The green arrows indicates that files have been placed in these folders and that they are being synchronized to your cloud in one drive. Whatever data you need to be placed in your cloud all you need to do is to use your mouse to click, hold and drag them to these folders.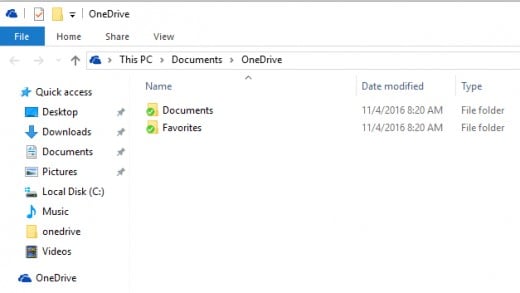 Share Your Files To The Public In Your One Drive Cloud
When you have completed your cloud setup. If you log into your windows live account you will see several folder by default. You will see:
Documents
Favorites
Public
Shared Favorites
When you drag files to the public folder, it automatically becomes shared content and can be viewed by the public. You can then generate links to your shared one drive content and share that link anywhere.
Go Setup Your Cloud
Now you are equipped with these easy to follow instructions to setup your cloud in windows 10. So now it is up to you to go get started and utilize one drive many benefits.
You can gain access to your files anywhere using any device
It can be used as a backup for critical files
You can generate links to share content
Happy Clouding!