Home Secured Wireless Network
In today's household, you find that nearly all members of the family has some WiFi enabled devices. There are cellphones, tablets, laptops, wireless printers and wireless desktops. Technology has evolved over the past decade and now we see other general household appliances being built to support wireless technology. There are Microwaves that have built in WiFi for internet access so you can download microwave cook recipes, Television which supports Bluetooth and WiFi access and even Toilets which have WiFi and Blue Tooth capabilities. In this article, I will teach you how to create your own secured wireless home network and avoid internet companies that offer you WiFi modems and then charge you to add several more devices to these appliances.
Items Needed
You will need a couple pieces of equipment to transform your home into a wireless playground. The amount of equipment varies as it depends on what type of equipment your Internet service provider has provided you with.
If your service provider has already installed a wireless router, and assuming that you have access to configure that router, you will only need a RJ45 cross cable to configure the wireless router.
If your service provider has installed a non - wireless device in your home, you need to go and purchase the following items:
Wireless Router - may cost from $60 - $200, depending on brand and features.
Registered Jack (RJ45) - Cross cable, to be used to connect your Laptop to wireless router for configuration.
Know Your Standard Wireless Router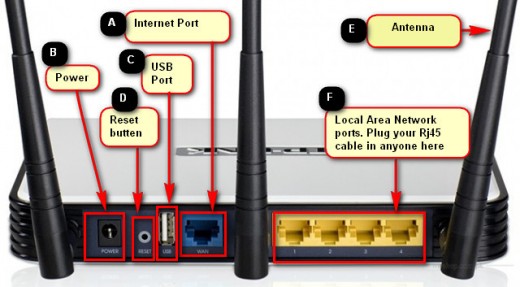 These are some of the standard components that come with nearly all new wireless routers. They may vary from the amount of antennas to no visible antennas. The routers without visible antennas has one that is actually built inside the router. It is argued that the outside antennas are much better receptacles.
A - The Internet port
Is a standard Registered Jack (RJ) 45 port. It is the port that is used to plug in your Internet Service Provider RJ 45 internet cable if they did not provide you with their own internet router. Other than that, we will not be using this port in this setup.
B - Direct Current (DC) female receptacle
Plug in and power the router.
C - Universal Serial Bus (USB) Port
Can be used to configure your wireless router by attaching a usb cable to router and Computer. With this method, you will have to install the drivers for the router on your computer.
D - reset button
Used to set back the wireless router to factory settings, your configuration will be lost if you did not save your configuration to your computer.
E - Antenna
To send and receive WiFi frequency
F - Local area network (LAN) ports
We will use one of this port to configure the wireless router. It is also used to attach any other network device that supports RJ45 network connection, this will allow internet access or to extended wireless network range bay stacking routers.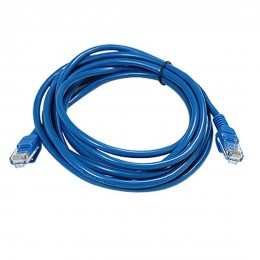 Configuring the Wireless Router Security
Boot your computer and then log on.
Power on your Wireless Router.
Attach the Rj45 cable to both pieces of equipment. (Laptop and Router)
nb// RJ45 cable comes in different colors. Any color cable will work.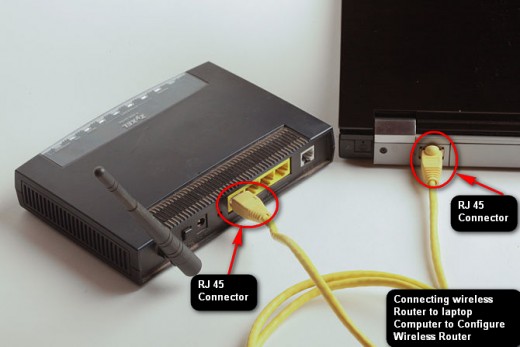 Your wireless router is accessible by using a built in webpage that come with your router. We will use this built in web page to configure the device. This webpage reside on the physical router and does not need any internet access to access it. All wireless routers come with a default administrative log on account. That account is located in the setup guide for your router. The router is accessed by using the default Local Internet Protocol (IP) address set by the manufacturer. e.g. 10.0.0.1 or 192.168.1.1
Once both devices are booted and attached to each other by network cable, we need to get them on the same network segment so we can access the webpage of the router to configure the device. What this means is that we will need to configure the laptop/desktop computer also within the same Internet Protocol range and sub net mask of the router. Don't let these technical jargon scare you, the images which i have created will make the setup quick and easy.
So lets setup your computer on the same network segment so we can access the wireless router.
Select - Start - Control Panel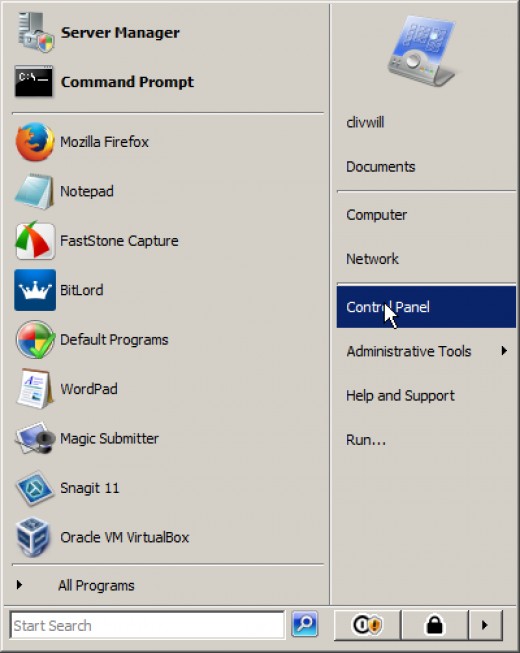 Double Click on network Connections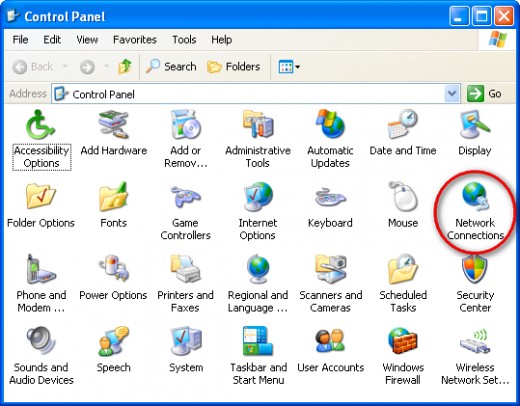 Select manage Network Connections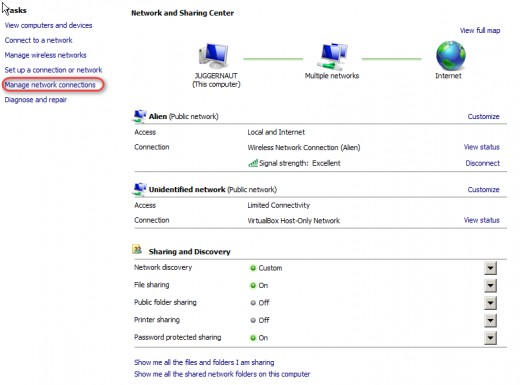 Right Click Local Area Connection and select properties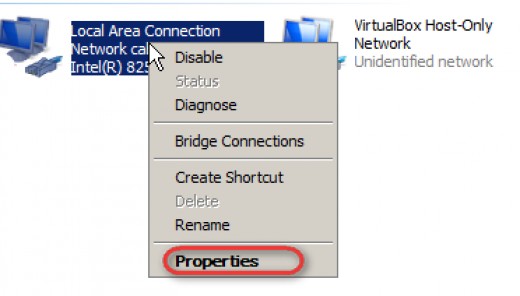 Select TCP/IP ver 4 and then Click Properties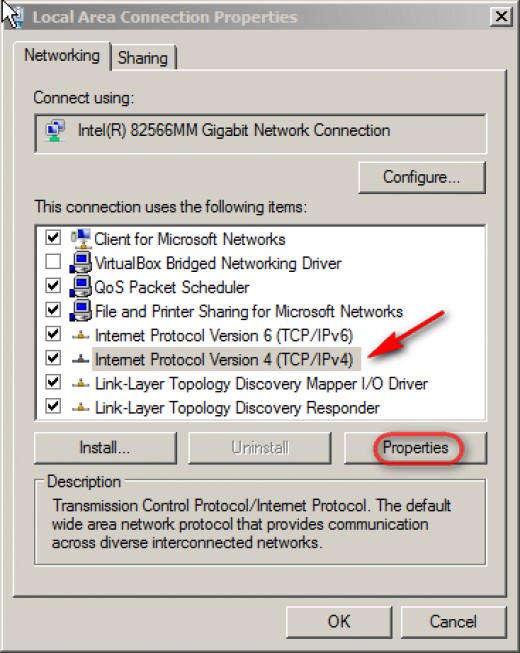 Notice the default selections - We will change the default to "Use the following IP address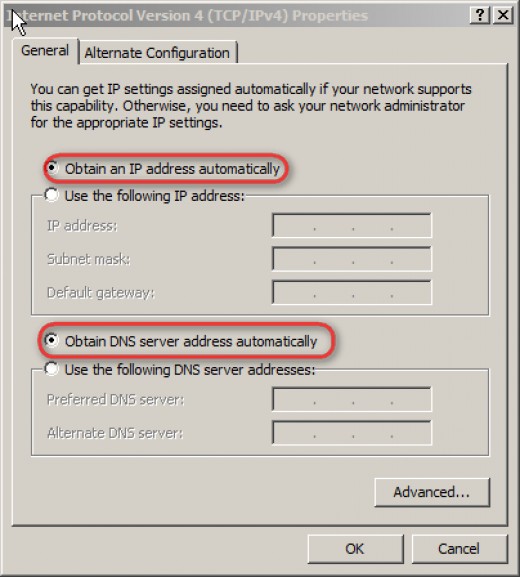 We now have the option to enter our own IP Address, Subnet Mask, Gateway and DNS. However we will only need the IP address and sub-net mask.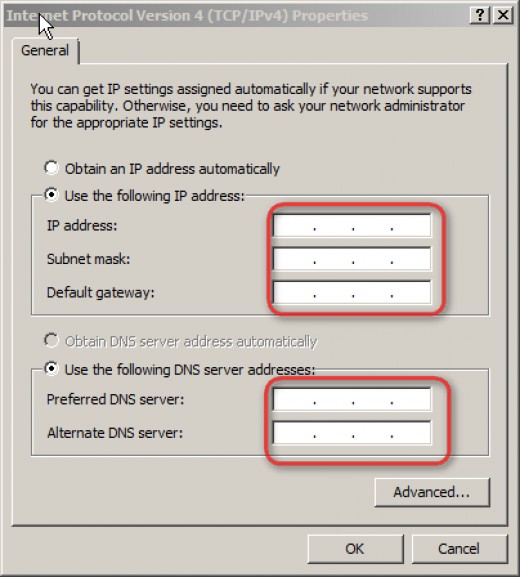 The Modem IP address is at Manufacture default 192.168.1.1, Enter 192.168.1.2 as the computer address. When you enter that address, click in the Subnet field an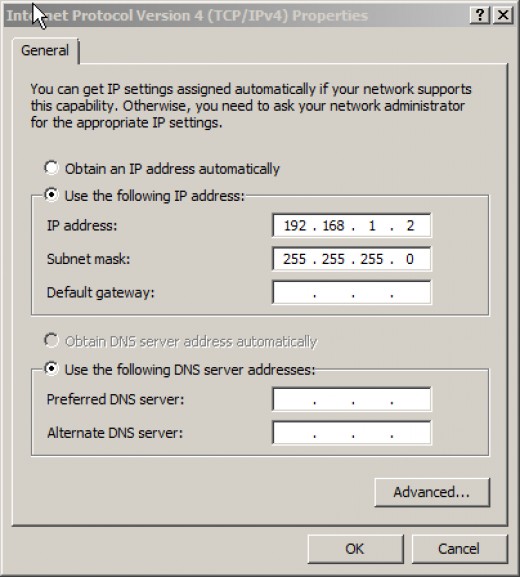 Accessing the Wireless Router Web-page
Now that we have configured the computer to be able to access the Wireless router webpage for configuration, let now access that built in router webpage.
Enter the Default IP address of the router into your web browser. eg. http://192.168.1.1
Enter the Default Username and Password for your router.
Web Browser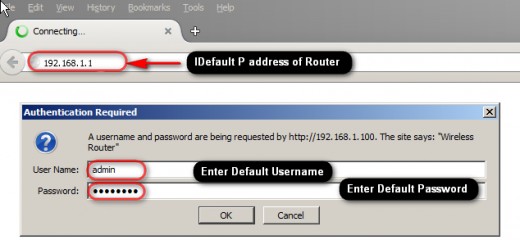 After entering the Wireless Router default Username and password, the Web-page of the wireless router will be displayed. The wireless router has many security features which can be enabled to provide a Secured Wireless Home Network.
SSID
The Service Set Identifier is the name that you will use to broadcast your wireless network so your authorized users will be able to tell that they are trying to connect to the right Wireless network. You can change the name of your wireless router to anything you want, eg. John's Wireless, FreeNet, etc.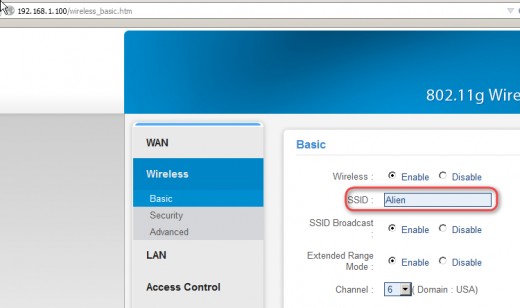 Securing The Wireless Home Network
In order for you to setup a secured wireless home network, there are certain security settings which need to be enabled that are standard on all wireless routers.
First you will need to select the enable security radio butten.
By enabling security, you are now able to configure your security settings that are on your router.
Choosing Authentication Type
WPA stands for Wi-Fi Protected Access, the WPA and WPA2 are security protocols which allows your wirless network to be protected from outside access.
Encryption Type, TKIP stands for Temporal key Integrity Protocol; AES stands for Advance Encryption Standard; These are encryption protocols that allow secure data transaction on your WiFi network
Connection Type. PSK stands for pre-shared key, EAP stands for Extensible Authentication Protocol. Determines how messages sent across wireless network is encapsulated and decapsulated.
Pass-phrase. Create strong non dictionary words to be used as your passphrase, eg. AsTko@21 would be a good passphrase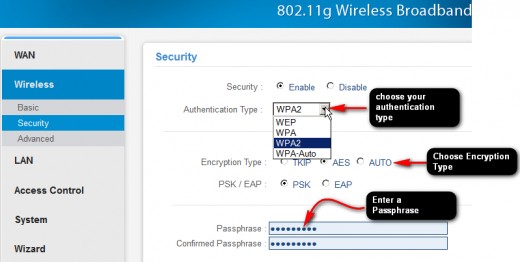 Setting Up the LAN
The Local Area network (LAN) is where you can change the default IP address of your wireless router as well as set the DHCP for the router. The DHCP stands for Dynamic Host Configuration Protocol. What this does is to automatically assign IP address to the authenticated wireless devices that you have within your home once they are connected to you Home secured wireless network.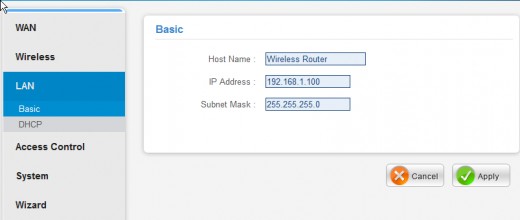 Enable DHCP so you network equipment can have access to your wireless network
Eg. 192.168.1.101 to 192.168.1.121
This would allow a maximum of twenty one devices to be connected simultaneously.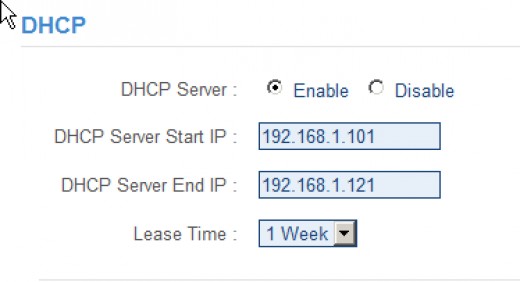 Access Control
There are several methods which can be used on your wireless router to ether block access to the router or Filter network traffic.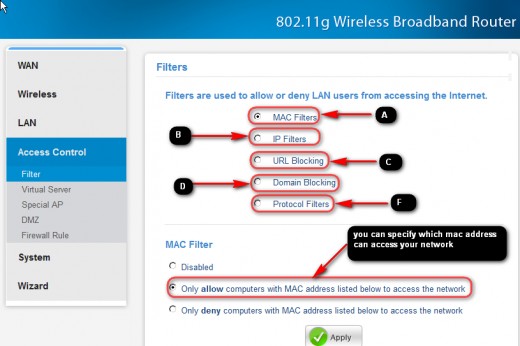 A. Machine Access Code (MAC) Filters
A MAC Address is a physical number built on to a Network card whether it be wired or wireless. It is a unique number which allow the Network card to be identified on the network and the wider internet.You can block access to you Wireless home network by allowing only specified MAC address access or denying all specific mac addresses.
B. IP Address Filter
You can also filter access by a less secured method which is by IP address, This is less secure as IP addresses are not physically tied to any network card so it can be easily bypassed.
C. URL Filtering
Block access to certain websites that you may deem in appropriate.
D. Domain Blocking
You can block web domains that you do not want to be accessed through your wireless router. So once you select this option and you want to block all educational domains you would enter *.edu, that is applying an Astrix before the dot, and then the domain.
E. Protocol Filters
Blocks out unwanted types of network traffic. Some protocols include, FTP, SMTP, POP3, you can disallow any of these protocols from trafficking your network.
Firewall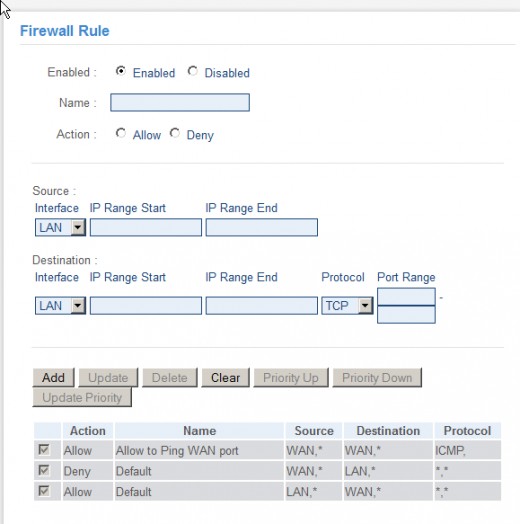 The Router Firewall
The firewall depending on the Brand Wireless router, allows us to make certain configurations to block or allow certain network traffics. Some firewall may allow us to block applications while some will allow us to block a certain IP Range. The type of configuration depends on what your needs are.
This firewall settings in the image above allows blocking or allowing of different IP address ranges. Example. Block 10.0.0.1 - 10.0.1.10. All devices with any address found withing this range will not allow network connection on your secured home wireless network.
Completion
After you have saved all your wireless router configurations. Unplug the RJ45 from the laptop/desktop computer, plug the rj45 connection into the Internet service provide internet device.
Also, remember that the layout of your wireless router may vary from brand to brand, but they do support the same technical features.
Once you have setup all the stipulated configurations, you are ready to go. Your network is ready for all your wireless devices. So with that said, You have just learn how to setup a secured home wireless network. Safe Browsing.