If you have great data service on your smartphone you can actually capitalize on that service by allowing other devices to access the internet through your own smartphone. The hot spot feature is a very good thing to setup on your phone, here is why. Let's say you are on the road and you need to quickly put together a document to be emailed or you simply wish to share internet access with a friend. Setting up a WiFi hot spot on your phone would be a solution. One other benefit of setting up a hot spot on your phone is so you can access the internet using another device of your choice that would be connected to your personal network.and hence you will have better security over your WiFi connection. When you connect to free open WiFi you have no clue that your data and identity may be at risk because hundreds or thousands of users have hopped unto that free network and many will have good opportunity to do some hacking on that free WiFi. Now with that said, let's get into the meat of the matter. Let's setup a secured Hotpot on your smartphone.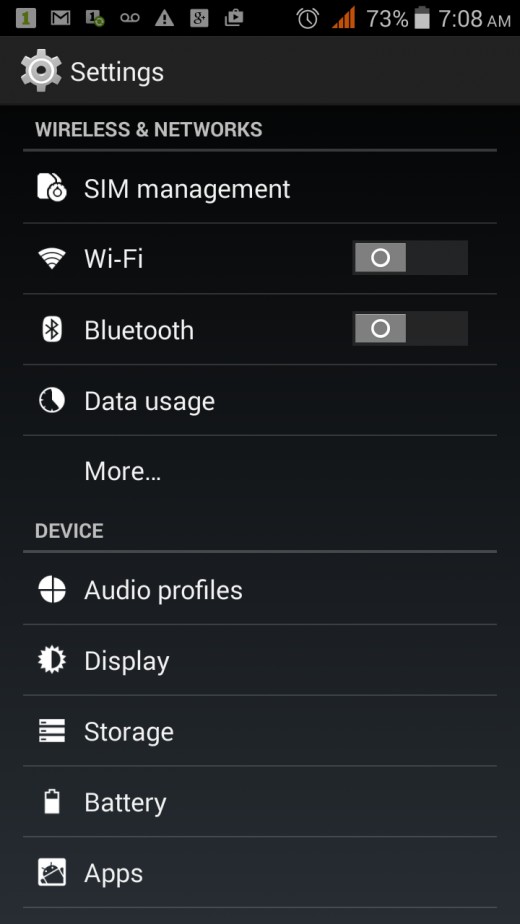 In the image above, it depicts a phone that has it's WiFi set to off. In order for you to setup your hot spot, your WiFi must be set to On as that is the only way wireless fidelity signals will pass from your phone to other connecting devices.
2. Turn On WiFi If It Is Off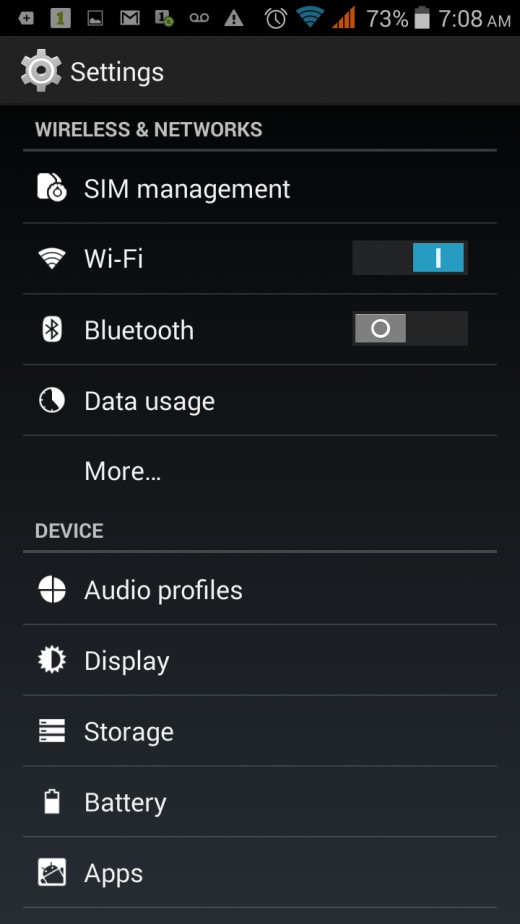 Now that you have WiFi enabled. You can move on to the next step of turning on your Smartphone's hot spot.
3. Turn on Hot Spot on your Smartphone
SELECT:
Settings-->More-->Tethering and Hotspot-->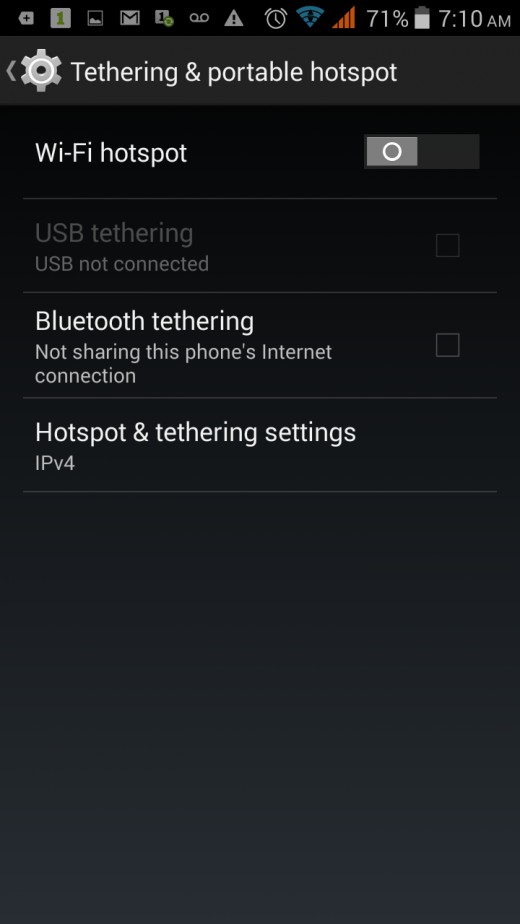 Your hot spot is set to off by default and all you need to do is to put it to on.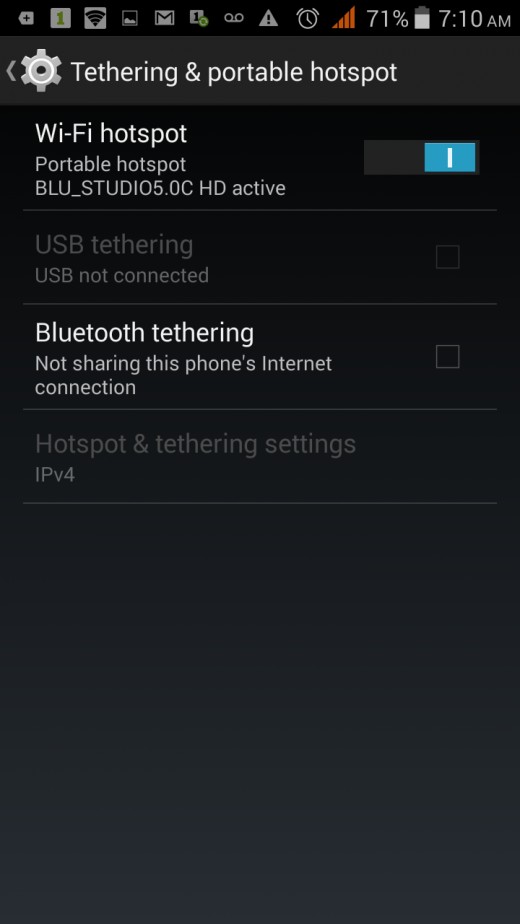 You have now enabled hot spot on your smartphone. But there are few critical steps which need to be taken to ensure the security of your WiFi network you have just created. You must now configure security on your WiFi network so unauthorized people won't be able to join your personal WiFi network. You will need to set a security key under your WiFi hot spot settings. This security key is the same as creating a password to access your computer. So persons who have WiFi enabled devices that pick up your WiFi network will not be able to join your network unless you have shared that security key with the.
4. Secure Your WiFi Connection
SELECT:
Setup WiFi Hot Spot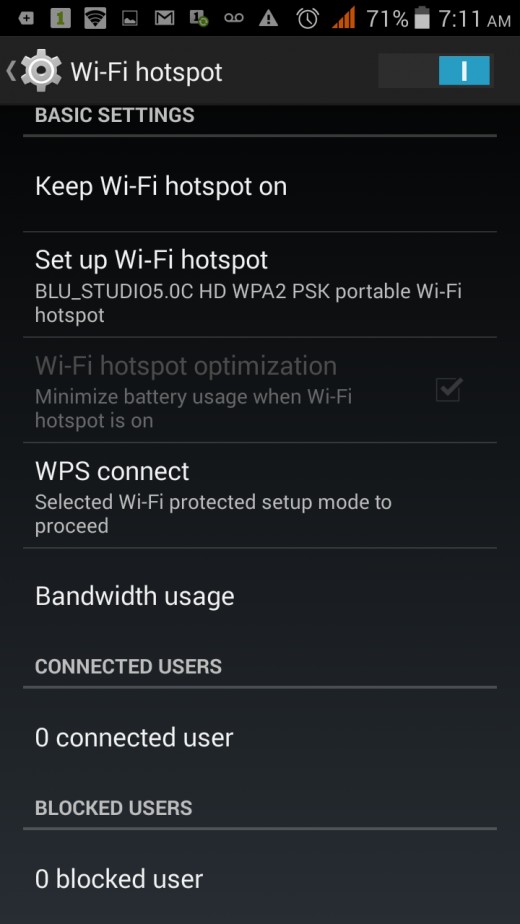 Now that your are in the configuration settings for your Hot spot, there are a few things about the following screen you should know.
The Name of Your WiFi Connection
Your phone name, by default will be the name of your WiFi hot spot network. This name is your Network SSID. SSID stands for Service Set Identifier. It is a basic sequence of characters that uniquely names a wireless local area network. As stated before, this is your network name. This name allows stations to connect to the desired network when multiple independent networks operate in the same physical area. You can change the SSID or your network name to anything you desire. So let's say for example the name of your phone is Gizmo2536DL19. You may not want that name to be broadcasted over your WiFi so everyone knows that a smartphone of that model is being used as a hot spot. You can simple erase that name and replace it with something less conspicuous. Something like "CharlietheChimp" or "Rainmaker." Just get creative.
Security
WPA2 PSK - Short for Wi-Fi Protected Access 2 - Pre-Shared Key, and also called WPA or WPA2 Personal. it is simply a method of securing your network using WPA2 with the use of the optional Pre-Shared Key (PSK) authentication, which was designed for home users without an enterprise authentication server. Listen, don't get confused with all these technology jargon and acronyms, all you need to understand at this moment is that within this field you will need to input a password and save that password so your WiFi can be secured. So forget the technology black magic and just create a password to block vermin.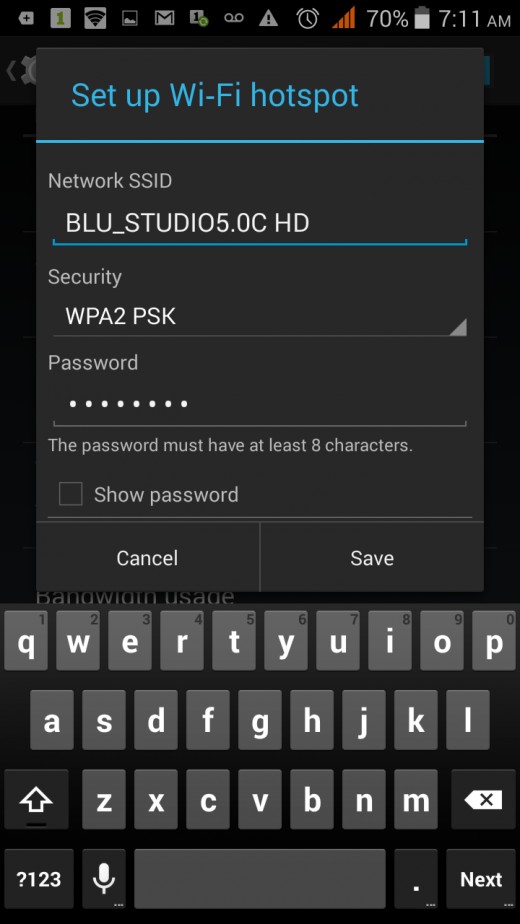 Once you have saved a password in the WPA2PSK, your hot spot settings are now complete and the next thing left to do is pop out your tablet or notebook and connect to your new WiFi network you have just created.
6. Connect To Your WiFi network
A. Select Your Wireless Network Name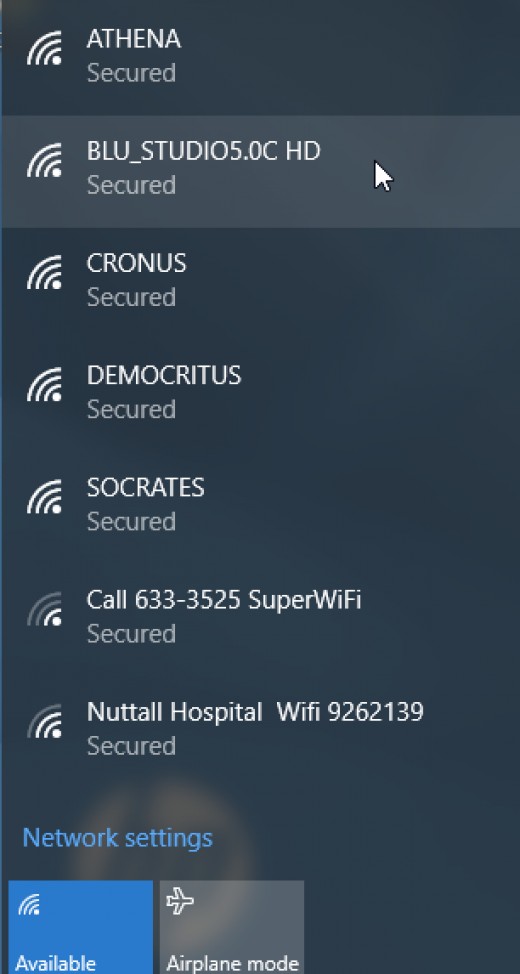 B. Enter The Password You Created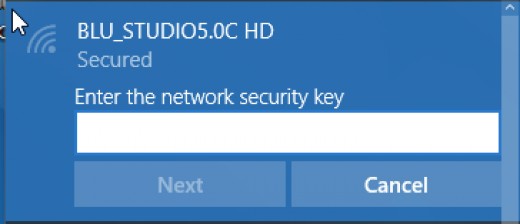 Once you have your notebook or tablet up, just select your WiFi icon and you will see a list of available WiFi networks nearby. You should also see the name of your WiFi network available.
Click on the name of your WiFi network and choose to connect.

You will then be prompted to input the password that you created earlier in WPA2PSK to join the network. Input the password and click Next.

Once the password is entered correctly, you computer should now be on your own WiFi Network. Happy browsing.